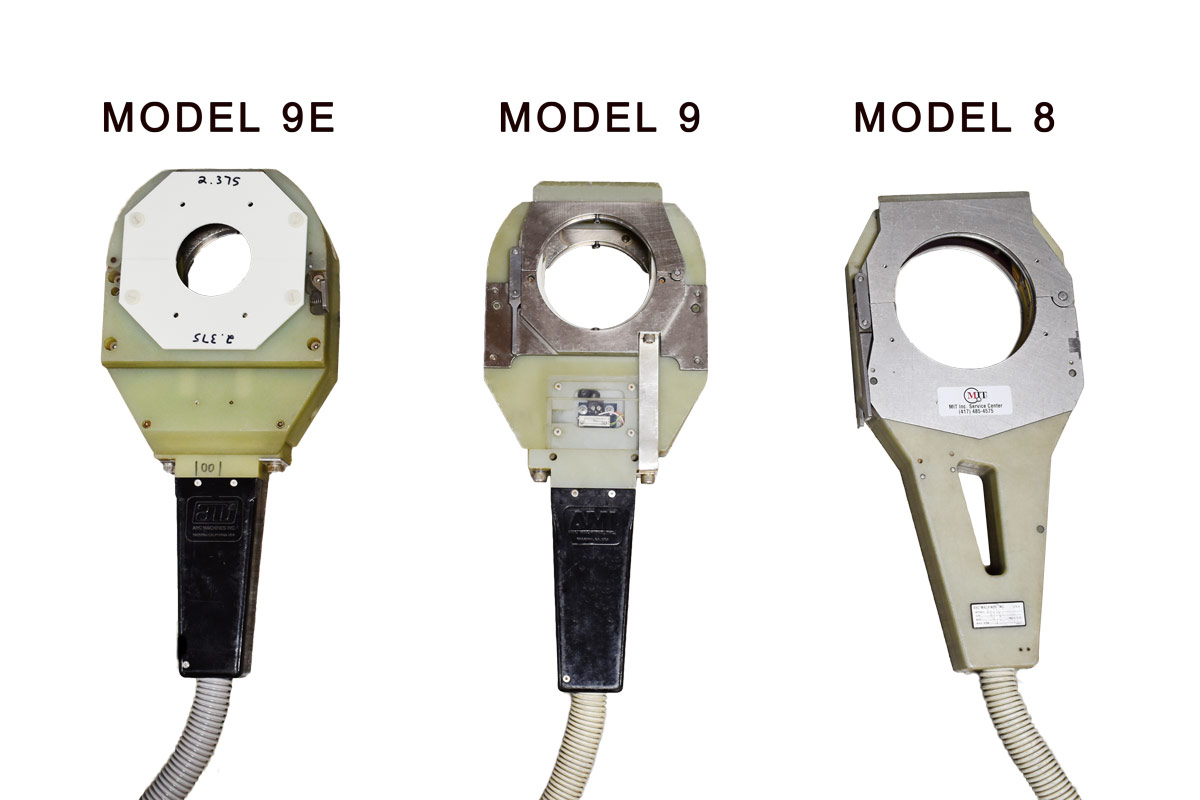 Enclosed AMI weld heads – the Model 9, Model 9E, and Model 8 – are weld heads designed for Tungsten Inert Gas (Tig) welding of tube, pipe, fittings or other components. They are a vital piece in the orbital welding process.
They are closed, as the name suggests, creating an inert atmosphere chamber that surrounds the weld joint. This encapsulated environment helps to create fusion welds on tube or pipe with a decreased risk for blemishes or other imperfections. Internally, the weld head rotor holds the tungsten electrode in place as it orbits around the tube or pipe, creating a fusion weld.
These weld heads have control cables extending to the power source, providing greater flexibility to perform welds farther away from the power supply. If the standard control cables are not long enough, extension cables are available. The clamp style design of the weld head makes for an accurate and easy fit up but if tacking is necessary there is an option for pre-tack programs as well.
The oldest AMI orbital weld heads are from a series designed in 1976 – meaning they have had a lot of time to perfect them. Today, Arc Machines has an extensive line of orbital weld heads full of various shapes and sizes to accommodate a wide range of applications.
AMI Model 9 Weld Head
This original fusion weld head now comes in several different versions. A pair of collets sit on both sides of the AMI Model 9 weld head, clamping around the pieces of tube or pipe.
Features & Benefits
Dual clamping
No tacking necessary
Available in 3 versions and 10 sizes
Configured in 60+ ways to operate on diameters from 3/32" to 7.5"
Viewing window
Model Options
Model 9-250
Model 9-500/C
Model 9-750
Model 9-1500
Model 9-2500
Model 9-3500
Model 9-4500
Model 9-7500
Note that the secondary number signifies the maximum OD. For Model 9-2500, the max OD is 2.5"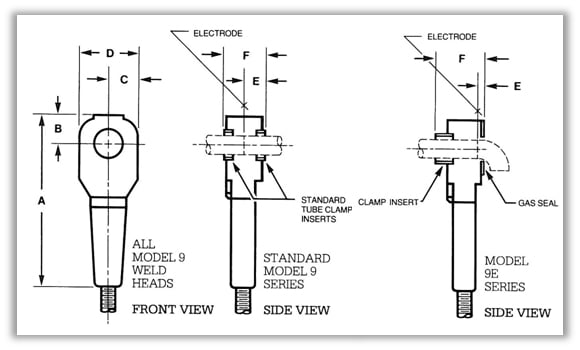 AMI Model 9E Weld Head
This is one of the 3 versions of the Model 9. The "E" stands for extended capabilities. This weld head series features only one collet for specialty fit-ups. Standard Model 9 weld heads can be used as a 9E with a conversion kit.
Features & Benefits
Single clamp allows for off-set electrode fusion
Designed for tig welding of tube or thin-wall pipe range of 3/32" to 7.5"
Available in 5 sizes
Must pre-tack unlike the 9 series
Allows for short tangent fittings
Conversion kits can enhance this head's flexibility to adapt to alternate configurations
Can utilize the tungsten mushroom extender
Viewing window
Model Options
Model 9E-1500
Model 9E-2500
Model 9E-3500
Model 9E-4500
Model 9ER-4500
Model 9E-7500
AMI Model 8 Series Weld Head
The AMI Model 8 series was introduced in the year 2000. The updated design makes it the thinnest AMI weld head at 1.75" – ideal for narrow applications.
Features & Benefits
Designed for welding of fittings, tubing, and thin-wall pipe
Narrow width ideal for restricted space applications
Ideal for stainless steel, titanium, hastelloy, and other weldable alloys
Unique cooling unit, allowing high duty-cycle welding
A variety of clamps are available to suit every welding application
Clamps require the least amount of stick out
All model sizes have 1.75" thickness
Ergonomic handle
Viewing window
Model Options
Model 8-2000
Model 8-4000
Model 8-6625
Schedule Development
To save time, Arc Machines has developed a schedule development quick reference guide for simplified operation of its Model 8 and 9 fusion weld heads.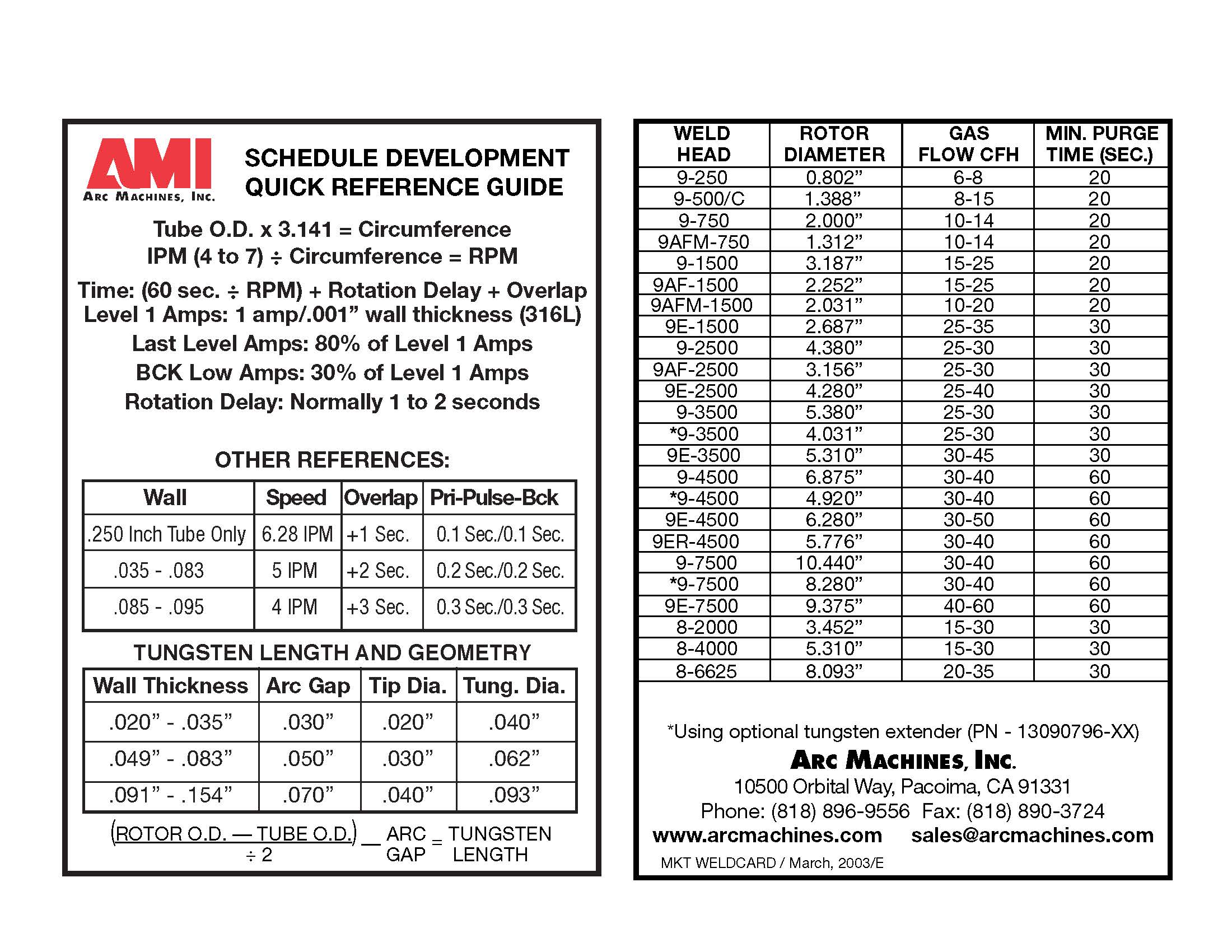 Have questions? We're here to help. Contact us to speak to a representative about purchasing or renting orbital welding equipment.